European Certification of proficiency in the Irish Language
Coláiste na Rinne is delighted to offer a range of online courses for adults which reflect the widely recognised TEG curriculum and materials, Teastas Eorpach na Gaeilge – European Certification of proficiency in the Irish Language.
TEG offers Irish language learners a pathway to proficiency starting with the beginners level A1 and progressing over six levels to the expert level of C2. SOME Irish Language Learners choose to mark their improvement by undertaking TEG exams whilst others attend our classes for the joy of learning Irish in the company of others. Coláiste na Rinne courses cater for both types of learners.
GAUGING YOUR LEVEL
TEG offers an online test HERE which can help learners get a general idea of their level of proficiency, however this test is only one step in the process; participants are advised to consult a / their teacher before choosing a level or before deciding to move to the next level.
For information regarding TEG exam dates and locations please click HERE
In terms of the commitment required to move through the various TEG levels, TEG has provided the Table below as an indication of the hours of study required to advance through the learning journey.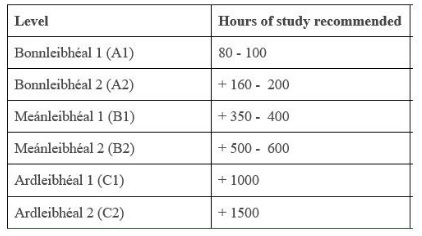 REMEMBER an interest in doing exams or gaining official certification is NOT a prerequisite for any of our courses / modules, but we do help those interested in TEG certification to achieve their goals.
Coláiste na Rinne offers Irish language classes in small group settings, for those who are:
taking their first steps on their learning journey – TEG A1
making good progress – TEG A2
becoming competent including those who may be interested in taking the TEG B1 exam at some stage.
Learners who already have a very high degree of fluency and are committed to perfecting their knowledge are welcome to contact the Coláiste to discuss their specific requirements. Coláiste na Rinne also offers online programmes to support certain professional curricula such as for example, that undertaken by teachers in training.
MODULAR APPROACH
We deliver the TEG levels over two modules per level. This means that half the learning themes for each level are addressed in Module 1, over a programme of 8 consecutive weeks and the second half delivered in Module 2, over The next programme of 8 consecutive weeks. The Modules do not have to be done sequentially.